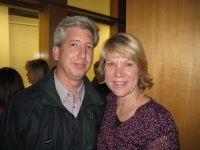 The Potluck Dinner
Trent and Michelle, good friends of ours, invited us to a potluck dinner at their home on Saturday. Now potlucks can be a little rickety — you never know what food is going to turn up. But Michelle orchestrated the dishes so that the meal came together wonderfully. We were joined by five other couples and had a pleasant time learning about their backgrounds over Michelle's tasty lasagna. But soon we were scurrying off to Weber State University to watch our play.
The Play
The Beaux' Stratagem was being presented at the Allred Theater in the Val A. Browning Center for the Performing Arts. And yes, you are right, Val Browning was the noted Utah industrialist, philanthropist, and third generation gun innovator.
Larry Dooley, director of The Beaux' Stratagem, wrote:
I waited a long time to direct this play. The time period, the early 1700s, is a particular interest of mine for many reasons, not the least of which is the central position of the theater in London society. People attended plays regularly. They were not just the higher-status audience members of the Restoration period; they were the middle-class merchants as well. People knew the plays and they knew the actors and playwrights. The crowd was vocal and knowledgeable. Old favorite pieces were brought back time and again, but new playwrights were also welcomed. George Farquhar, an Irishman by birth, was one such playwright. (The Beaux' Stratagem program)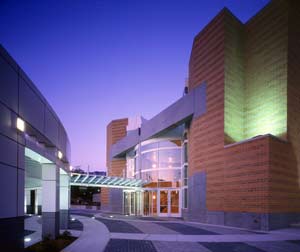 The Beaux' Stratagem is a comedy by George Farquhar, first produced at the Haymarket Theatre, London, in March 1707. The play begins at a country inn with the arrival of Mr. Aimwell from London and his friend Archer masquerading as his servant. They plan to travel through small towns and entrap young heiresses so they can repair their fortunes. In the first town, Lichfield, they set their sights on the beautiful Dorinda. Aimwell falls truly in love with her while Archer strikes up an extremely worldly friendship with Dorinda's sister-in-law — Mrs Sullen is trapped in a loveless marriage to a man she despises. The play is lively, entertaining and, as the saying is, a romp in every sense of the word. But be assured that love will win out in the end with the help of a little disguise and trickery.
Epilogue
I really enjoyed the evening's activities. I would never have thought to have a potluck dinner before the play. That went over very well and when you think about it, who wants to watch a play on an empty stomach? This was the first play I have attended that had sign language available — via two young ladies to the right of the stage. The whole cast was dressed in white, I'm not sure why — maybe to assist those who are color blind? Anyway, a big thank you to Trent and Michelle for inviting us to their home and organizing our attendance at The Beaux' Stratagem.
Related Posts
Cyrano de Bergerac
The Two Gentlemen of Verona
Othello