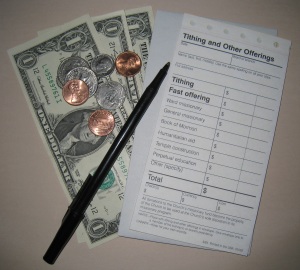 Four questions showed up recently in a comment about a post on debt.
1. What advice would you give for teaching young children and teenagers these principles?
First we need to identify the principles mentioned in the post. They are:
Debt is worse than the plague.
Never pay credit card interest.
Borrow only for home, health, and education.
Pay tithes and offerings.
Be charitable.
Never co-sign for a loan.
A bargain is not a bargain if you don't need it.
Obviously some of these principles would be lost on young children. The easiest principles to teach them would be tithes and offerings. When offerings such as for the Fast are made this is being charitable to the poor or those in temporary need. Number seven on our list can be taught by allowing safe but unwise purchases so that children can learn by their own experience what is and isn't a bargain.
In our home we kept a small box that contained change in a small can and dollars in an envelope. It also contained tithing slips and envelopes. When the children received their allowance my wife and I would help them figure their tithing and write out the slip. We had change on hand (in the small can) so that they could submit the correct amount. By the time they were teenagers they took care of their tithes and offerings by themselves.
When the children reached twelve or thirteen I would open a credit union account for them complete with checks and a Visa debit card. Around eighteen I would make sure they got a credit card. That way they could start building a credit rating without me having to co-sign for a car. The credit card had a $200 limit which was raised over time.
Was it successful? The children know how to handle credit cards without incurring debt. They automatically pay tithes and offerings. They are very good savers.
2. What works better than conventional strategies?
One thing I did when the children were young was to open a savings account at the bank. This was no ordinary account. It was a Black Hole Account. This meant that money deposited into the account could never be withdrawn, except for a mission. I set up the accounts so that two signatures were needed for withdrawals, mine and the child's. At first I mandated that the children deposit half their earnings in the bank but I later left it up to them. Sarah was exempt but nevertheless saved a substantial sum with which she was able to tour Europe and later to buy a car.
Was it successful? Our first three missionaries saved their entire mission cost (currently $9,600) plus were able to buy everything they needed for their mission. Our youngest boy is preparing to go on his mission.
3. What have you done with your children to teach them?
Our children probably noticed that we paid our tithes and offerings, that we saved, and that we never paid credit card interest. So a good example is the best teacher. If you have learned sound financial principles then your life teaches your children. They probably heard us talk about a new couch or other item and also heard us decide that we had to save for it. They learned that they may have to wait for their birthday or Christmas to get what they wanted, or to save over an extended period.
We tried all sorts of work schemes. Chores were expected but then some were paid. We never seemed to hit on a formula that worked. For a time we had an allowance that was part free and part earned. When the children got outside jobs I let them keep all their earnings. I wanted the connection between working and earnings to be very strong. Besides, they saved most of their money and a good percentage went into the Black Hole Account.
Was it successful? I would say mixed. We never did get the allowance thing right. However, the children are great at earning a living and can hold down a job.
4. What would you have changed (concerning teaching important financial principles) if you could raise your children again?
When it came to cars my wife and I paid for the running of them and retained ownership. Three of the children now own their own cars. By my calculations it would be very difficult to save for a mission and purchase a car as well as pick up college expenses for the year that some of the boys had before their missions. If they had bought cars then I would have had to pay for their missions. By absorbing the car expense it left the mission and college costs to the children. That would make mission and college more meaningful for them because they contributed substantially. However, I sometimes wonder if I should have had the children get into car ownership earlier.
One thing I would change is having the children contribute to the mission of their older sibling. Once Sarah asked me if she should help with paying for Steven's mission. I said, "No, your mother and I will take care of it. You save your money." Wrong answer but there you go.
Was it successful? Yes. As children reach college and mission age this is no time to scale back on your financial commitments to them.
Conclusion
There is a lot more I could write about. What worked for me as a parent may not work for you. I might mention that what we were teaching at home was being reinforced at Church. Many of the principles mentioned here I learned over the pulpit and then taught my children. I very seldom look back and question how I raised my five children. I am just grateful I was given the opportunity to be their father.
How did you learn about finances? What have you taught your children?