It was suggested by one of my children that I write a post that outlines my advice to the groom who is about to be married. Here is my counsel encapsulated into one sentence:
Provide physically and spiritually for your family.
I realize that most of you want a little more detail so I have prepared the following.
Get a Job
If you already have a job that's great. A woman needs the security of a revenue stream. In college and elsewhere you may have heard people say "Work at a job you are interested in," or "Be employed in an area that you have a passion for." I have often thought this is like saying, "Never get sick," or "Always be happy." The reality is that your job will be hard, stressful, and dull. Walk around the office and see how many married men have a photograph of their family pinned up in front of them. That's what keeps you going when all you really want to do is to pick up the computer monitor and chuck it through the window. That is, if you are lucky enough to have a window close to you.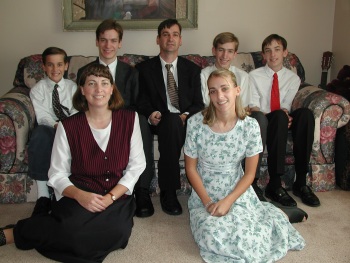 Get Religion
There is an undeniable spiritual dimension to life. You need to be exposed to the great teachings in the scriptures and to regularly attend church. There you will be reminded to be kind and generous, to work hard and to give service, to treasure your wife and to love your children. Of course the religion I recommend is my own. You will need to know what to teach your children about their Heavenly Father. You will be able to tune in to your spiritual nature to help you find answers for yourself and your family. Your wife will appreciate your sensitivity borne of your closeness to the spirit.
Get a Home
As soon as you are able you need to purchase a home. If you are still in college you should finish your studies first. Every crop of young home buyers envy the low home prices and interest rates available to the previous generation. Once you own a home with a fixed rate mortgage the ever present inflation now begins to work for you. Each year the fixed mortgage payment becomes relatively cheaper compared to your income. Surprisingly, you even get a tax deduction which seems a little ridiculous in my opinion.
You may not want to take on such a large financial responsibility but it is a necessary step in the evolution of your family. Your wife needs a home that is her own to beautify and to welcome relatives and neighbors to. It adds to her sense of stability.
Get out of Debt
With a home you have the mother of all debts that can take a lifetime to pay off. For a modest home it is considered a justifiable debt. As would be health care expenses and education. Keep away from all other debt and if you ever refinance your mortgage do not add any new money to it for home improvement. Also consider reading this post on debt.
Get Children
At an early point in your marriage introduce children into your family. You may think that you cannot possibly support children at this time. I thought the same too, as do almost all fathers. But it all works out and years from now as your hair is graying you will be eternally grateful that you were unselfish enough to allow children to share your life.
This verse sums up my attitude towards my children:
As arrows are in the hand of a mighty man; so are children of the youth. Happy is the man that hath his quiver full of them. (Psalms 127:4-5)
This is the most advice I have given in years and most of it I learned from listening to wise old men over the pulpit. And I have proven its validity over a lifetime of experience.