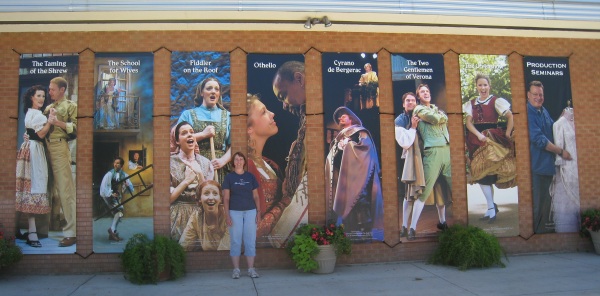 This is our second day at the Utah Shakespearean Festival. Yesterday we saw Cyrano de Bergerac. Today we attended a matinée of The Two Gentleman of Verona. We enjoyed the play and the dog appeared to be the biggest hit with the audience. We will be watching Othello this evening and I will probably report on the play tomorrow. We are enjoying the uncrowdedness of Cedar City and the clear skies. It is pleasant to walk around the campus with so many shade trees to cool our way.
The Play
The Two Gentleman of Verona is a free-spirited and engaging comedy. For anyone who has ever been in love, this youthful indulgence is replete with love-smitten (and confused) men, cunning (and disguised) beautiful maidens, and the most likable canine ever to grace the stage. Valentine (Justin Matthew Gordon) and Proteus (Matt Burke), the two gents in question, prove that Romeo is not the only lad in Verona to feel the raptures of love!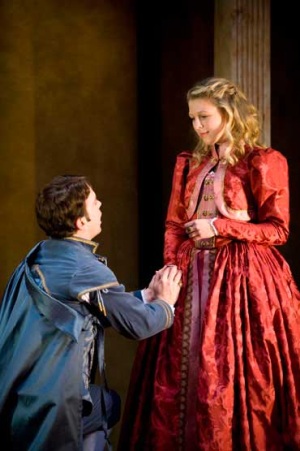 The Actors
Matt Burke is also playing Tranio in The Taming of the Shrew.  Previously at the festival he had roles in Twelfth Night, Coriolanus, King Lear, Love's Labour's Lost, and Doctor Faustus. He will be featured in the upcoming HBO movie Recount.
Justin Matthew Gordon is also playing Cassio in  Othello. Previously at the festival he had a role in Coriolanus, Lend Me a Tenor: The Musical. He appeared in the movies: We Were Soldiers and What's Bugging Seth.
The Theater
We watched the play in The Auditorium, completely renovated in 2004. It is the venue for matinées and kept us cool and in the shade on the hot summer afternoon. It is also used for performances that are "rained in" from the Adams Shakespearean Theatre. Fortunately the weather was clear yesterday for Cyrano de Bergerac. The theater seats 853. The Auditorium is nowhere near the same as being outdoors in the Adams Shakespearean Theatre. However, the acting was just as excellent and we enjoyed our first taste of Shakespeare this year.