The Festival
My wife and I are in Cedar City for two days for the Utah Shakespearean Festival. We were last here two years ago and before that it was a twenty years. Each time we have enjoyed ourselves immensely. With just a short 3 1/2 hour drive with not a rickety road anywhere we arrived in good spirits ready for theater. The plays take place on the campus of Southern Utah University that is located not far from five national parks. Skiing is 40 minutes away at Brian Head.
The Play
Cyrano de Bergerac, written by Edmond Rostand, is the play we watched tonight. We like to add one or two non-Shakespearean plays to our itinerary. Set in Paris in 1640 the play is about an expert swordsman, eloquent poet, and eligible bachelor. Cyrano (Brian Vaughn) shies away from wooing Roxane (Melinda Pfundstein) because his overly-large nose masks the beauty of his soul. Instead, he helps his bumbling young friend, Christian (Drew Shirley), court her by writing entrancing poetry for the young man to recite.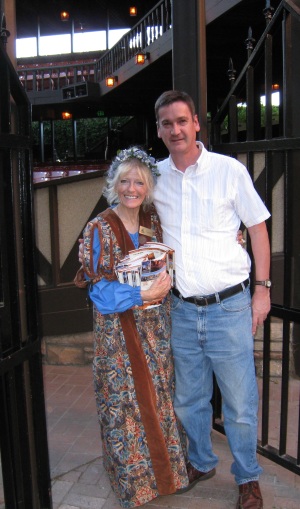 The Actors
In real life Melinda is the wife of Brian. They both have performed at the Shakespearean many times over the years and have become a favorite of festival goers. The fact that as a married couple they are deeply in love will add another layer to this romantic and beautiful play. Brian and Melinda both attended Southern Utah University. In addition to their roles in Cyrano de Bergerac, Vaughn will be playing Launce in The Two Gentlemen of Verona, and Pfundstein will play Tzeitel in Fiddler on the Roof. We plan on seeing The Two Gentlemen of Verona tomorrow afternoon.
The Theater
The top left photograph is Jill with R. Scott Phillips, the executive director of the festival. It was taken a few minutes before the play began in the Adams Shakespearean Theatre, dedicated in 1977. It is patterned after drawings and research of sixteenth century Tudor stages. Experts say it is one of a few theaters that probably comes close to the design of the Globe Theatre in which Shakespeare's plays were originally produced. It is so authentic that the British Broadcasting Company filmed part of its Shakespeare series there. It is named for Grace Adams Tanner, a major benefactor of the Festival, and her parents, Thomas D. and Luella R. Adams. It seats 819, plus 66 gallery-bench or standing-room seats. Jill and I have always attended the festival in August on our anniversary. August in Utah is usually very hot but in the evening in Cedar City the temperature is just right. In this open air theater the atmosphere is perfect in more ways than one. With the excellent acting it really doesn't get any better than this.
Final Thoughts
I didn't know much about this play before tonight. It was spoken in rhyme which I do not normally like but this time it came off rather well because it was so clever. Jill remarked that she didn't know how Brian Vaughn (Cyrano) could remember so many lines. Maybe it is easier because they rhymed? It was a nice touch to place on our seats a blanket, seat pad, program, souvenir bottle of water, and a note attached with our name on it. This was for those who had purchased premium seats. That is why we also got to meet the director. All I did was to buy tickets that got us close to the front of the stage. Speaking of which, before the play started I took a photograph of the stage for which I was rebuked. Apparently the stage is copyrighted. Fortunately the director has not been copyrighted yet so you get to see him.
I plan on reporting on an actual Shakespeare play tomorrow. Unless writing about Shakespeare is also copyrighted. :)