This is part five of a ten part series chronicling Paul's Mission. It is told mostly in his own words using excerpts from his letters and photographs sent home.
March 2005
I like the area I am in very well. We haven't had any baptisms in this area yet, however, we are getting close. The church in Spanish is small down here. I still drive, I have not forgotten. The church members are just like church members. Except they all have black hair and black eyes and are fairly recent converts to the church.
We washed the car today. It is very clean now. The 15th is transfer day; I think I will probably stay here in San Leandro.
I lost twenty pounds this transfer. Now I weigh 160 pounds and my clothes fit well once again. I think that if you put your mind to it you could lose weight too. It is not very hard. There is a lot of food to eat though so I may gain it back again. My first companion Elder Smoot is back in Provo now. He finished his mission. He will be officially engaged to his girl friend that has been waiting for him as soon as he earns enough money.
I bought a new 512 memory card so now I take more video and pictures. I like the videos better. I worked on not being a picky eater in the MTC and it looks like it paid off. I can eat just about anything now without throwing up and most things even taste good. One of the things I don't really like is lengua [Ox tongue]. It is really squishy and fatty but I eat it anyways. Burritos of carne asada, which is like thin steak, are my favorite food here. We buy them from little taco trucks which drive some where, park and then sell tacos.
Talk to you next week.
It's too bad to hear that grandpa isn't doing well. Try not to be too sad.
One of my little friends, Wilson, died a few weeks ago at five years old. I was there the first time their family came to church and followed their progress until the Mother and her twelve year old were baptized three months later. The Father continued to struggle in overcoming some difficulties but never failed in coming to church and supporting his family. Then four months later I picked up the phone one Sunday morning only to hear Brother Rivas struggling to relate the sad news and inform us of the viewing and funeral. The next day as we gathered together and looked at the little casket, it was obvious that Wilson was not in the cold lifeless body but as promised had indeed returned to live with his loving Father in Heaven. While it may have been difficult to accept, his death was a necessary part in God's plan of Eternal happiness and we have the assurance that all is well.
Keep the big picture in mind.
Love,
Elder Willoughby
I moved to Antioch. Elder Denning from Idaho is my new companion. Brother Lang told me if I ever made it to Pittsburg to avoid Black Diamond street, however, the Elders that live with us and cover Pittsburg say it isn't too bad anymore. Elder Vernon, my MTC companion, lives in the same apartment with us. It is fun. I have begun reading Jesus the Christ in Spanish. It is easier to read than the English one because the translator has taken out all of the archaic words.
The shirt fits well, however, I don't think I'll need any more. All of my shirts are holding up well and should last me the whole time. The new apartment is nice. I'm thinking I will probably stay here for a couple months but you never know. The scripture cards came. They look really good, I like them. How is Uncle Mike? Do you watch more TV with your Tivo?
Hello Daniel,
Try to see if you like the Work and the Glory books, Sarah has all of them. They should be good. Have you read all of the Tennis shoes among the Nephites? The Wards have all of them. Try the hitch hikers guide to the galaxy, Steven has that one. Get the eye, the ear, and the arm from the library. It is a good book. Jake C knows what it is called if I didn't get the title right. Try reading the wheel of time series. Oh, get the Lion the Witch and the Wardrobe that is a good one and read the other books that he wrote. Start out with the eye the ear and the witch and the wardrobe. Let me know when you finish and I'll remember some more.
Food, if you go to Betos I have probably eaten every single thing on the menu. I'll tell you what the good stuff is when I get back. In the mean time you might try some quesadillas as they are tasty.
Clay Wight email to Jill Willoughby
Jill discovered that her L-3 Communications colleague, Clay Wight, had a son in the MTC with Paul.
From: Wight, Clayton
Sent: Thursday, March 10, 2005 7:09 AM
To: Willoughby, Jill
Subject: Small World

Jill,

This is an excerpt from my son's email yesterday:

Hey Dad I did know Elder Willoughby, real well. He was in my Branch. I even went to class with him a few times. I checked him out of his room. I never heard him speak English the whole time he was in the MTC. That was impressive.

Clay Wight
April 2005
We watched all of the sessions in conference and they were really good. I watched them in English, the Spanish translators are really good but they always miss some things. I would have gone with the Presidential scholarship that gives [Jake] more money, the credits transfer fairly well between the schools and he could switch if needed.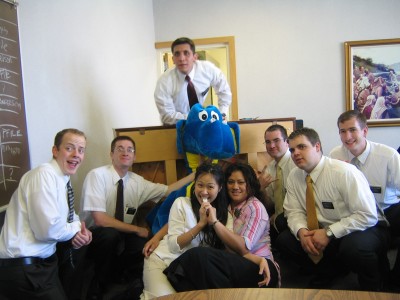 He should be able to get good enough college grades to get a scholarship at Utah State when he switches. Tell him to get a free bachelors degree at U of U then he can go to what ever school he wants for his masters. Fifteen hours is a lot of credits to take and have to work at the same time. I think he wants to go party up there with Brian.
The pictures don't cause any problems. I don't need anything I will tell you when I do. If Dad still has the Book of Mormon summary booklet project saved off the other Elders here really like it and were wondering if he could send three of them out here.
There are a few people we are teaching that look promising. Monica, Sal and Elvira, Guiermo, and Roberto. There are some others that are doing well but I can't remember their names at the moment. I like fixing head gaskets; that's an expensive repair. I haven't heard from Jake C for a while and I like the city I am serving in. Ask Steven if he has any tips for improving my Spanish. Did Daniel get started on any of those books?
I like linoleum, make sure you get some real slippery so we can slide around in our socks. The places aren't too scary here. I am the junior companion right now, which means that I work equally with the senior companion except he is responsible for what happens and has the last say in the decisions to be made. I play the piano in district meetings when no one else can. So far I have learned one new hymn, #27.
We usually eat breakfast and lunch in the apartment and about half the time we eat dinner with a member. I have been eating honey nut cheerios for breakfast with some tasty vitamin D whole milk. I found some chili in one of the apartments, someone gave us some hot dog buns, and I bought some hot dogs so I have been eating chili cheese dogs this last little while. I usually have some toast and put either pork and beans, old English cheese, jam, peanut butter, or honey on it. There are usually some leftovers from a dinner to eat as well. I like to eat what other missionaries have left in the apartment, a cupboard of strange cans and foods always builds up that no-one can bother to cook or eat so I chow down on it. I've been eating a lot here and I'm back up to 180 pounds, which makes my clothes fit a little tighter.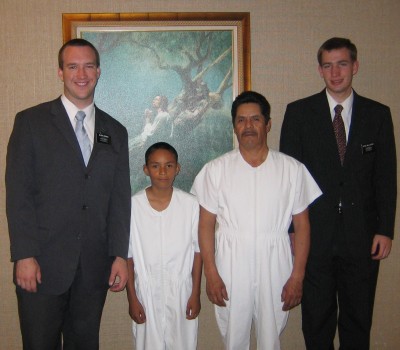 They carpooled to the temple, it is about thirty minutes away. We drive a 2004 Chevrolet Malibu. I have been driving for the last seven months. Do you think you could send me a Franklin KJB-2003 Bible Bookman Card for my birthday? I think they are about $20 and plug into the back of the little translator that I carry around. A legacy dvd and a special witnesses dvd, they come with Spanish on them. My new companion is Elder Garcia from Tampico Mexico, he is 6 foot 5 inches tall and really big.
The senior missionaries sure help out a lot here.
May 2005
Next Sunday is Mothers Day, if you can call me up at 6:30 – 7:00 my time. We go to church at 8:00 so if you are late we won't be there. We haven't received any direction on calls yet so if anything changes I'll tell you when you call. Hey do you think you could send me a church almanac and a true to the faith in Spanish (Leales a la Fe)? My companion's name is Elder Garcia. I can send you a picture after the camera arrives. The traffic is only bad here during rush hour and the highway systems are very extensive so it ends up about the same as Salt Lake. Elder Oaks spoke with the missionaries yesterday, he flew out for a YSA fireside and was nice enough to speak to us the next day. Steven can send the package here to Pittsburg if he has them leave it in the apartment office or at the post office. If not I'll just have to wait until zone conference when they bring the packages from the mission home.
The pants are not too small they are just getting tighter. I'm going to keep wearing them for now. I have a lot of candy I keep collecting it from other elders so it's going to take me a while to eat what I have. Macaroni and Cheese is only 33 cents at Wal-Mart, it's pretty tasty.
So it turned out to be a bunion [on Sarah's foot] after all, I thought so. Tuesday we have interviews with the President so we'll be doing that for a while. Our branch is moving to a different chapel this Sunday. It should be fun. Good job at work [Dad], now all you have left to do is retire. Yesterday we had a zone conference with Elder Hallstrom and his wife are who taking a mission tour here. It was good. When you get a chance I was wondering if you could send me your conversion story.
Thanks
I don't have a lot of time left because the computer at the library was broken and I had to fix it before I could use it. I received both packages and every thing looks good. The pictures are very nice and fun to look at. I don't know if Andrew can mail me or not but it cost money to print here so if he would like a response have him mail it out. I received the present from Amazon and the others and I'm very happy with them. The Wards sent some little sticky frog snappers that the other elders have really enjoyed snapping each other with. Could you send me some more stamps? We live in Pittsburg but our area is Antioch. We have a baptism coming up on June eleventh, Monica Zarate from Peru. Also we are hoping that Berlin Leon will be baptized soon. She is married to a member and they are both from Guatemala.
If you would mail [your conversion story] out when you finish it up that would be good.