This is part two of a ten part series chronicling Paul's Mission. It is told mostly in his own words using excerpts from his letters and photographs sent home.
August 2004
I haven't setup my ldsmail account yet so don't send me any emails because I won't get them. My area is in Richmond and is really big. I live in an apartment on Richmond Parkway. This past Sunday I shared my testimony in the Richmond 3rd Spanish branch and sang Called To Serve. My companion Elder Smoot and I are both new to the area. We have been teaching a man named Eduardo who is a really good investigator. Our branch president, President Gomez, is from Chile. His Spanish wasn't too difficult to understand. I think the Spanish from Peru is the best, they seem to speak more clearly than others. We went to the temple on Saturday, a Spanish session.
Email from Elder Smoot
Hello Brother Willoughby,
My name is Elder Chandler Smoot and I'm your son's companion. I'm from Provo, Utah and have been out on my mission for about 15 months now. I just wanted to write you and give you my thanks for raising such a wonderful son. It really is a pleasure to work with such a fine man. He has an exceptional desire to learn and studies hard. I frequently find myself learning from his wonderful example. You should truly be proud. Since he has arrived he has yet to speak a word of English to me, which makes it really fun to work with him. Well, that's all I'm able to write today due to time restraints. I just wanted you to know that your son is doing exceptionally well out here and appears to be enjoying every second of it.
Take care and have a great week,
Elder Smoot
Response
Hello Elder Smoot,
Thanks for communicating to me that Paul is doing well and that you think highly of him. My wife will be thrilled to hear some more news of Paul. His siblings won't show much excitement (they have to be cool) but they are reading your email just the same.
It would appear that Paul has a great companion and that you work well together. Thanks for training him in his duties. Paul was self-motivated about his mission and would go to mission training in the Stake without any reminders from us. He would buy the discussions and church books and study them. We just gave him a room and fed him. Incidentally, we only need to buy half as much milk since he left. :)
Thanks again for writing,
Bro Willoughby
September 2004
You're going to have to send some more questions. I can't think of anything to write. Send me a satellite photo and I'll show you what apartment is mine. I live on the west side of highway 80 on the south side of Richmond parkway, it is a huge complex just after the gas station and before a big pond/field park. From the mall north across the park/pond.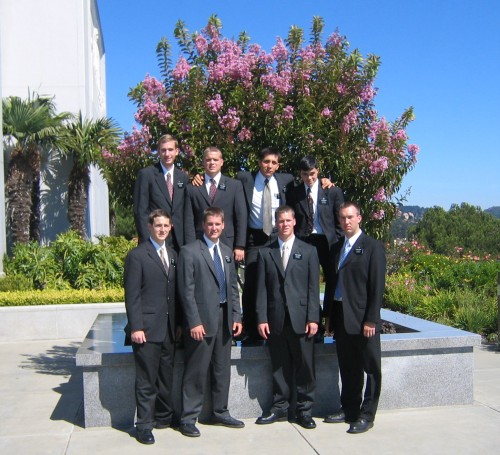 The new Altimas have aux in on the radios. There is a photo of when the ants invaded the laundry room from a couple of years ago when I was little. It is a picture of lines of them marching down the walls, see if you can find that for me and scan in a copy for me.
The El Portal address is the apartment of the District leader. The apartment is really nice, look at in a satellite photo, the complex is huge. I don't need temple clothes, we go to the temple every 4th Saturday in the Spanish session. We have a 2003 red Taurus for transportation. I haven't taken any pictures, we can only use cameras on preparation days. The apartment is like an apartment, I'll send a video of it. There are six elders that serve in the branch, the two branch missionaries and us sang. The family history [you sent] is good for now. We send the email from Contra Costa County Library, the San Pablo branch. There is a gas card in each car. Companion is from Provo.
In the area that I am in the Hispanic people are all mixed in. When we tract we might only run into one or two Hispanics in an hour. Sometimes it is easy to tell where they are with their pink, orange, blue, and yellow houses, but a lot of times tracking in this area isn't very productive.
Yes I am healthy. We drive everywhere, everything is miles apart, look on the map we cover from Richmond to Crockett. No, I did not know that I have been out 100 days last Thursday. Elder Smoot cut my hair awhile ago. I don't know what to think about Sean's call because I don't know about it. I have the suit, it was at the mission home when I got there the first day. You do not drive until you have one transfer here. Yes I can use the camera for any baptisms. We do both door to door tracking and referrals, we work in the northern part of Richmond, Hercules, Pinole, Rodeo, and Crockett. I received a Lan party picture, I don't remember any others. I sent an email the second week with some things I wanted, I'll write again next week with a list.