A QR Code is a matrix barcode readable by mobile phones with a camera, and smartphones. The code consists of black modules arranged in a square pattern on a white background. QR is the acronym for Quick Response, as the code allows its contents to be decoded at high speed.
QR Code Uses
QR Codes can be used to display text to the user, to add a vCard contact to the user's device, to open a URI or to compose a text message or email. Users can also generate and print their own QR Code for others to scan and use by visiting one of several free QR Code generating sites.
Creating A QR Code
I tried experimenting with QR Codes by creating a QR Code Calendar Event for our Stake Conference General Session. In the top right is the QR code I created using the QR Code Generator from the ZXing Project. I selected a Calendar event, entered the details, and chose a medium (M) barcode size. The screenshot below shows the results. Click on the image to enlarge.
Reading A QR Code
To read the QR code on my smartphone I used ShopSavvy that I already had installed. I selected "Search for a product", and held up the camera to my QR Code at the top right of this post. ShopSavvy immediately recognized the code as a Google Calendar Event. To add the event to my calendar I scrolled down and selected "Done."
The results were less than satisfactory. I found that ShopSavvy did not add the location and the description of the event to Google Calendar. By using Barcode Scanner by ZXing Team I got much better results. As you can see from the Google calendar screenshot below, all the information was captured and saved.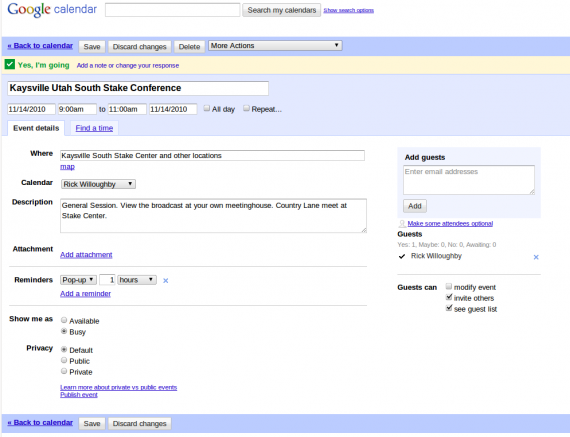 QR Code Readers
Many Android phones come with QR code readers already installed, as do most Nokia phones running S60 3rd Edition or newer. Blackberry phones running Blackberry Messenger 5.0 (or more recent versions) can also scan QR codes using the "Scan A Group Barcode" option in the BBM menu. Both the Android Market and the iTunes App Store offer several free applications that can decode QR matrices. Similar software can be downloaded and installed onto S60 phones.
See if your cell phone camera will recognize my QR code.