Getting Started
Ten days ago I funded my Lending Club account with a few spare dollars. On Monday the transfered money was available for use. Lending Club connects those seeking a loan with lenders. Risk of default from rickety borrowers can be spread out by investing only $25 per loan. Unlike Prosper, the interest rate is determined by Lending Club and remains fixed during the funding process. Lending Club sets the interest using a base rate and adds to it an adjustment for risk and volatility.
A few months ago I opened a Prosper account but the company is currently in a quiet period. Hence I moved my Prosper earnings over to Lending Club. I was able to invest in several notes without any difficulty. The software did present two procedures that were a little awkward at first but I readily adjusted. I will detail them below. Also remember that I am showing you how easy the process is but I am not telling you which loans to choose.
Choosing Notes To Fund
When I search for loans in which to invest I check A, B, and C which correspond to average interest rates of 8.30%, 10.83%, and 12.41%. I leave the Credit Scores and Debt-to-Income Ratios as is. I check zero delinquencies and all loans that are in funding. After the search I sorted on "Interest Rate". You can see in the image below that this search found 48 notes. I like to fund businesses and credit card consolidation loans and to keep the interest rate at 10% or higher. I am willing to go with a lower interest rate because I do not think there will be as many defaults with Lending Club as there are with Prosper. I choose "Consolidation" and "No more credit card" from the list of notes.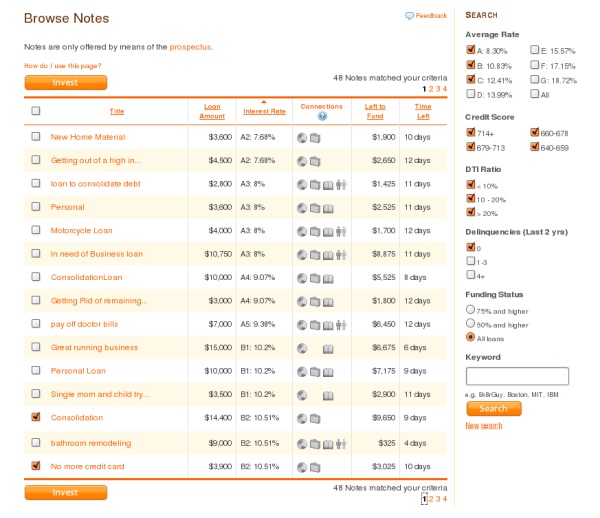 Next I go to page 2 and select three more loans. Now this is where I made a mistake. I decide to fund the loans I've found and I click on "Invest". So now I have three loans. The two loans from page 1 did not get saved. Even though I selected the loans I did not click on "Invest" on page one. Just remember to click on "Invest" on each page that you have loans selected and you will be OK.
Feedback
I sent feedback to Lending Club and they answered promptly:
Thank you for your email. Lending Club is working on implementing this feature in the future. We are very appreciative of your feedback. Keep it coming!
Please feel free to contact us if you have any other questions or concerns.

No big deal, not a show stopper. I go back and repeat my search and pick out my loans. The next day I check back and two of my loans are already issued. I start up a search to choose more loans and I find that yesterday's loans that are still in the funding process show up in the search. This is significant because now I have to bring up a list of notes I have already funded to see if they are the same as the ones I found in the search. I don't want to fund a note twice. Time for more feedback. Here is the Lending Club response:
Thank you for your email. Lending Club is working on the saved search options as well as notifications that will allow you to see what loans you have invested in. We are working to offer these features in the future.
Though the process was awkward it is only really a problem when you try to fund a lot of loans in a short period of time. While I am on my whine wagon I will mention that the Connections feature did not appear to be working for Geographical Affiliations. On one search page, three of the little gray globes turned to gold, meaning there is a connection to me. They listed:
Rowland Heights, CA
Wenonah, NJ
Harrisburg, PA
I didn't see any connection with Kaysville, UT so off went another feedback. No response this time, maybe they have my email marked as spam so they can get some work done.
A Few Notes
Investing on Lending Club ties your money up for three years but it is a different situation than with a Certificate of Deposit. With Lending Club you get interest and a portion of the principal back each month. Be cautious though because your money is not insured. However, my account cash balance is covered by FDIC pass-through insurance. Currently Lending Club services 21 states, namely Colorado, Connecticut, Delaware, Florida, Georgia, Hawaii, Illinois, Louisiana, Minnesota, Mississippi, Montana, Nevada, New Hampshire, New York, Rhode Island, South Dakota, Utah, West Virginia, Washington, Wisconsin, and Wyoming.
What I like about Lending Club
It is easy to fund notes with as little as $25. I can sell my loans if I need my money back sooner. Having the loan interest fixed is very nice and I found that my notes were issued as soon as they were funded. The search results are really neat as you can sort on any column. Credit card debt must be really onerous if people are willing to pay 10% and up for Lending Club loans. Debt is indeed worse than the plague. I love the higher returns, even with the risk. Lending Club minimizes the risk by only allowing borrowers with a FICO score of at least 640 and other credit characteristics to obtain personal loans. I think that more peer to peer lending websites will spring up, giving individuals more opportunities to be their own banker.
Update
26 Jan 2009 — Early this month Lending Club fixed the saved search options.